Company Profile - Star Plastics
---
Coined in 1995, Star Plastics is the Flagship company of Star Group. Star Plastics is the Rotational Moulding Division of Star Group and is well known for its superior quality products. A National Award Winner Co., in a short span of 15 years, has become a leader in Water Tanks market of Jammu & Kashmir.

Over at Star Plastics, Vertical Water Storage Tanks starting from 100 Liters up to 10,000 liters are manufactured along with allied products like Jumbo Dustbins, Horizontal & Flat Top Water Storage Tanks. 'Star' Water Storage Tanks bear BIS Mark (ISI) and are also on DGS&D Rate Contract.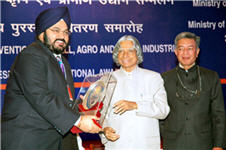 Star Plastics is a part of 3 Times National Award & 1 Time State Award Winner Group.
Star Plastics is owned by Star Group India. Star Group is a diversified group having interest in various manufacturing activities. Know more about Star Plastics or view what Star Group India has to offer.